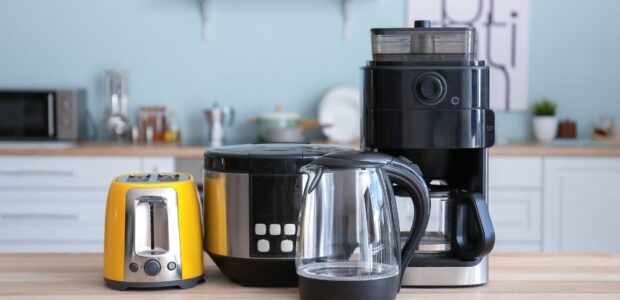 All kitchens should have the basic kitchen appliances used by the majority of people. However, to some extent, it should also be based on the family's likes and needs. In today's digital world, there are even some models of kitchen appliances that you can operate via your smartphone from miles away. The following are several must-have kitchen appliances:
List Of  Essential Kitchen Gad

gets
Blender

A blender is a great tool to have in your kitchen. It is a very versatile appliance that can do everything from making a delicious smoothie to crushing ice cubes to make snow cones, as well as smash up veggies to use in soups or other meals, and even make a mean batch of frozen margaritas for your next party. There are many different styles, speeds, and types of blenders, from simple one-speed models to professional strength ones with multiple abilities. You can also get handheld models that are even small enough to take with you on a trip!
Slow Cooker

A slow cooker is a must-have if you work all day long and don't have time to cook. All you have to do is dump your ingredients into it, and when you come home, you'll have a great smelling kitchen and a good meal. They make stews, roast and veggies, and all kinds of soups and other meals. You can get a cookbook or look online for recipes. Some have removable inserts, while others are one-piece, and they come in several sizes from a quart to 12 or more quarts. The two-piece is easier to clean because the insert can be washed in a dishwasher. These days you can even get "smart" ones that can be operated by Wi-Fi.
Coffee or Tea Makers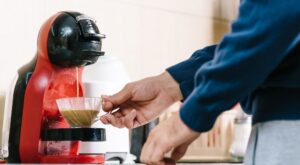 If you drink a lot of coffee or tea, then getting a drip model is going to save you a lot of time and make a much smoother cup of coffee or tea. You can get simple models up to programmable models that will have your brew waiting for you when you wake up in the morning. Or you could get something like a Keriug machine that uses the little pods full of flavored tea or coffee. There are also special machines such as an espresso machine for people who want to grind and brew their own coffee beans and save money by not having to buy expensive Starbucks coffee. It's all up to you and your budget.
Food Processor

If you spend a lot of time in the kitchen doing things like chopping or pureeing foods or like to blend foods or knead bread dough, then you need a food processor. It saves you lots of time in food preparation as well as can save you money if you freeze the results until you need them. These come in many different models and sizes, which are dependent on how much you use it and what you use it for making.
All kinds of toasters

When it comes to toasters these days, there are far more types than just your standard two or four bread models. If you want something stronger, and more versatile, consider a toaster oven. These can make much more than toast. They can even back cake, cookies, pies, or pizza! And they only take five minutes to heat up and don't overheat your kitchen as much as your oven might. And one unique toaster even cooks up hot dogs and buns! Yes, you just put in the hot dogs on one side, and the buns on the other, or some models, just cook the hot dogs. Either way, they taste better than old-fashioned boiling or dried out microwave hot dogs.
Air fryer

A lot of people are getting on the bandwagon for owning an air fryer. It actually can fry your favorite foods in air and hardly any oil, which will help to make you healthier as well as save calories. Plus they are very easy to use and cook much quicker too. You can use them to make foods like fried chicken and not even feel guilty! 
Microwaves

A microwave is a win-win in the kitchen for many reasons. They can heat up something in a minute or so, as well as cook your frozen foods much quicker, and even cook an entire roast chicken or other food in less than half the normal timeframe. They are simple to clean & use, inexpensive and come in sizes from one small enough to keep in a college dorm room to a large one that sits above your kitchen range. 
3-in-1 Breakfast Maker

If you live in a small apartment or a college dorm, this 3-in-1 Breakfast Maker can get you out the door fast, and you still get a full breakfast to fuel your day. It fries eggs, toasts your bread or biscuits, and brews you a small pot of coffee and tea. Yet it takes up less room than having to buy all those appliances separately. It's a great gift for someone heading away from home for the first time.
Pressure Cooker

One appliance you may or may not need is a pressure cooker. They are used for cooking things like rice or veggies faster. In fact, the popular hot pop is a type of pressure cooker. They do take a bit of a learning curve; however, as if you aren't careful, you can get burnt easier when using them. 
Electric Can Opener

These days a lot of cans come with a flip-top; you can merely pull up and then rip off the lid on canned goods. However, there are still brands that don't have a flip-top, so you need some sort of can opener to open them. An electric can opener is a cheap device that quickly opens all sizes of cans and is much easier on your hand than using a manual can opener. 
Personal Pie Maker

Do you love pie? Who doesn't! Impress your kids or co-workers with this handy dandy gadget that makes cute little individual pies. It makes four little pies at once, and you can make them any flavor you like, even four different flavors. It's as simple to use as a waffle maker and has lights to tell you when your yummy creations are done.
Mini Waffle Maker

And speaking of waffles here's another cute gadget that will impress your kids. A waffle maker for those who want smaller portions or are serving toddlers, or perhaps you want to use tiny waffles as a complement to other foods such as for dessert. Then you can top them with fruit or other items and enjoy! It's all up to your creativity and imagination. Plus, these gadgets can do more than waffles. They can make paninis or little pizzas or even hash browns. Plus, they weight less than a pound, so they don't take up much space on your counter. And they come in lots of fun colors too.
Electric Egg Cooker
If you love boiled eggs, but hate having to try to figure out how long to boil them, then an electric egg cooker is just what you need. All you have to do is load in from six to a dozen eggs (depending on the size of the model you buy), pour in the required water, and make sure you pierce a hole in the top of each raw egg so it won't explode (really!), then turn it on and wait a few minutes for the timer to go off. Then you have perfectly boiled eggs to the consistency you desire.All in all, the must-have kitchen appliances in your home depend on your family size as well as your cooking and eating patterns. So no matter if you are old school or prefer today's gadgets that hook up to Wi-Fi or a smartphone, the above list are some of the must-have kitchen appliances you should have.