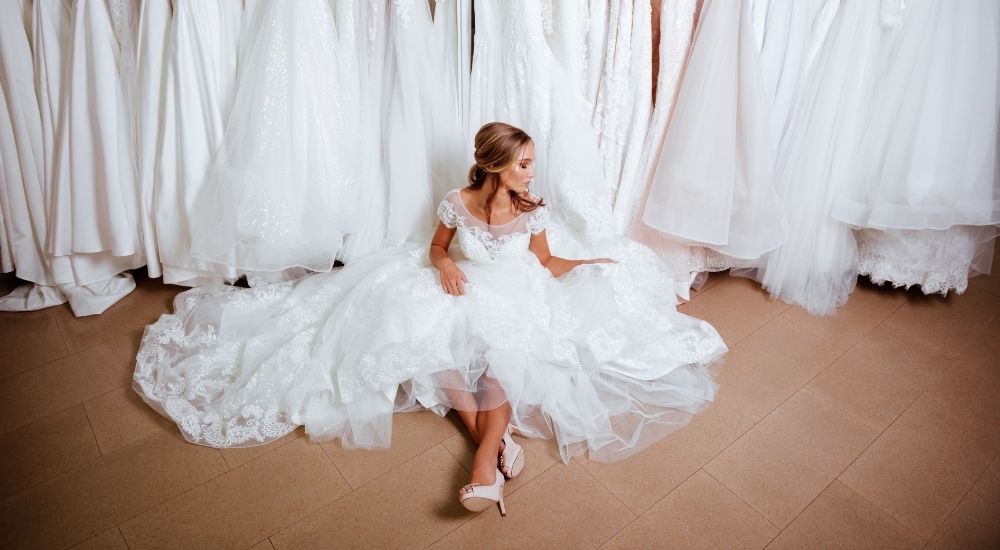 Best Ways Choose Wedding Dress
Weddings are an exciting time where the bride is the one, and everyone is waiting to see walk down the aisle in her wedding dress. That excitement begins right after the bride to say yes to her future husband and starts the search for the perfect wedding dress.
Choosing a wedding dress can be a confusing task since there are so many different styles to pick from. Just how does one choose the perfect dress amongst all those 100s of dresses staring back at you when you step into a bridal store? Here are some tips on how to pick the perfect wedding dress for your wedding: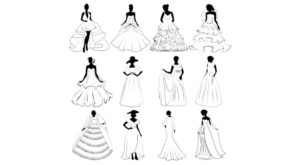 Consider The Location of The Wedding
First off, it's important to know where you are getting married since that makes a difference when choosing a dress. For instance, if you are getting married in the middle of the summer on a sandy beach, then you probably should stay away from dresses with a long train that could drag in the sand or wearing anything that is going to make you sweat too much. You may want to stick with more suitable fabrics like organdy or linen and stay clear of anything velvet or brocade.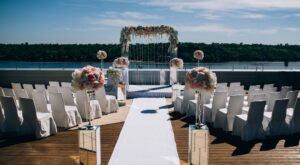 But if you are getting married in a fancy chapel or have a destination wedding in a medieval castle setting, you likely will want something like a fancy ball gown complete with a train and veil to fit the mood.
Consider Your Budget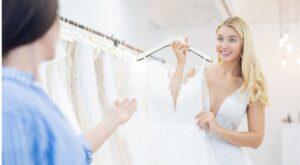 It's extremely vital to know how much you can spend on your dream dress. Be sure to tell the people at the bridal store before they start pulling out expensive gowns you can't afford, and you get disappointed. Be sure to factor in the need for things like alterations, professional cleaning, or shipping fees. While you don't have to spend a fortune on a dress, some of the fancier types can cost upwards of 15 percent of the cost of an upscale wedding.
Start Your Shopping Early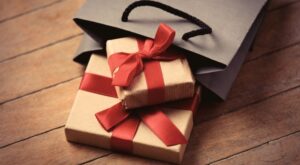 If you can, start looking for your dress between six and nine months prior to the wedding date. If you are getting a dress specially made, it can take four to six months to get it done, plus time for alterations. If you are in a hurry, you can always buy dresses off the rack, but most brides want the option of having a say in the design of their dream dress.
Do Some Research on Styles Available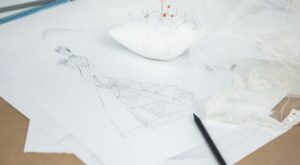 When it comes to wedding dresses, there are many kinds of fabrics, styles, waistlines, bustlines, you name it. Plus, there are even several shades of white to choose from or various other colors if white's not your style. You can do your research via bridal magazines, as well as online, to help narrow down your choices. Be sure to bring pictures of the things you like when you go dress shopping.
Plan Out Your Shopping Trips
It is best to know ahead of time all about the venue to plan to get a wedding dress. You need to know things like their price range, types of dresses, accessories they sell, if they do the alterations themselves or send it out, etc. Most of the bridal stores also require reservations in advance. When you do go to your appointment, pick a timeframe where you won't be hungry, tired, or rushed. Be sure to have a way to make some notes about the dresses you liked as some stores don't allow you to take pictures.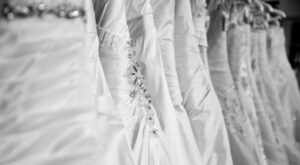 Be sure to bring things you want to wear with the dress such as an heirloom necklace or lacey veil that's been passed down in your family for generations. Wear the kind of bra you plan to wear with the dress and if you have the shoes already, bring them too. You want to know exactly how it all will come together. Additionally, it's a good idea to bring a trusted friend or relative to help tell you how you honestly look in the dress.
Don't Let The Shop People Be Pushy
Above all, don't let a pushy salesperson force you into getting a dress that you don't like, or can't afford. You can take their advice up to a point since they are the experts; however, if you don't love the dress in the end, then politely tell them so and move on to another dress. They are likely working on commission so a few may be more interested in making money than helping you find a dress that truly fits your body and personality.
Get The Dress That Fits Your Body Type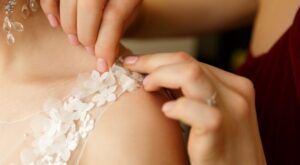 Bridalwear likely has sizes smaller than regular clothing, so never look at the sizes. Instead, just get the size that fits you the best. Plus, you need to match up the style to your body type.
Pear-Shaped
If you are a pear shape, look for a classic A-line dress that highlights your smaller waistline and flows away from larger hips and thighs. Additionally, a V-shaped neckline helps show off your upper body's slenderness. 
Apple-Shaped 

 
If you are apple-shaped, look for a gown that goes in where your waist is the smallest, then flares outward. Look for a bustline with textures like lace or ruching that can act like a corset. The best neckline shape is a deep V-line, so everyone looks vertically instead of horizontally. Avoid the style called trumpet, as that would only stress the part of your body that is heaviest as well as flare outward near the knees and legs where you are thinnest.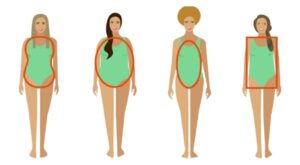 Large Busted
If you have a large bust, consider a dress that has a scoop style neckline as it can highlight your face and doesn't show too much of your cleavage. Plus, a sweetheart style neckline is better than one going straight across because the latter would make your bust look larger. Additionally, the ruched fabric will also call too much attention to the bustline, so avoid it.
Plus-Sized
If plus-sized, choose an empire style dress. These have bottom parts beginning right under the bustline and then flare into an A-line style. Make sure it doesn't have a seam starting at the chest or pleats as that looks too much like a maternity dress. Still, make sure it isn't too loose as that actually will make you look heavier. You also should go for material such as satin that isn't really flowing.
Tall Brides
If you are on the tall side, find a dress with a silhouette that's simple. You want to stress your shape, so a dress with a low waistline and ahem reaching the floor will help reflect your height. Plus, long sleeves should end after the wrist.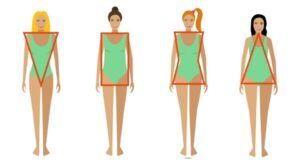 Straight-Lined
If you have a smaller bustline, you need a dress that produces the curves where you may not have curves. Consider a sheath style gown cut on a bias, as the side seam is more curved and helps make your silhouette look bustier. A ball gown style, for instance, which has a cinched in waistline shows off thinness and hides the fact you have small hips, and a ruched bustline will provide some volume in that department as well.
Petite Brides  
Smaller brides are better off with styles like sheath, trumpet, or modified A-line that has the waist higher than your normal waist. Don't wear a ballroom style. Any fabric is likely ok, but don't wear large bows, dropped waist styles, or dresses that only go to your calves.
After all, choosing a wedding dress is times, patience, and a bit of research so you can wear your dream dress on your special day.