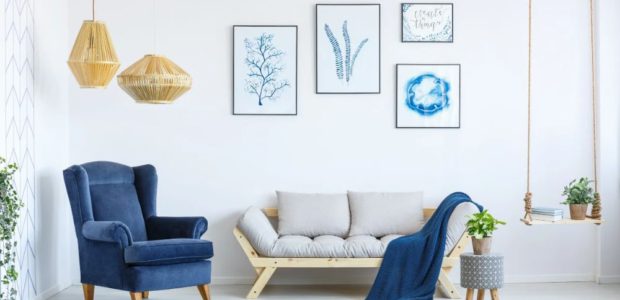 Within the expansive field of interior design, every thread we weave contributes to the masterpiece called home. Enter the ethereal realm of the UK's most coveted online furniture stores, where innovation dances harmoniously with tradition, and each piece is a testament to impeccable craftsmanship. These 7 virtual sanctuaries of style stand not just as mere emporiums but as bastions of quality, where every sofa tells a story, and every table holds a promise of timeless beauty. As we embark on this odyssey through the corridors of elegance, rest assured that your quest for the exceptional ends here. Brace yourself for a curated experience that goes beyond shopping – it's a journey into the very essence of what makes a house a home.
| Online Furniture Stores UK | Standard Delivery | Free Shipping (UK) | Return Policy | Prime Savings Periods | Unique Feature |
| --- | --- | --- | --- | --- | --- |
| ManoMano | 3-5 Days | Selected Products | Within 14 Days | Black Friday, Cyber Monday, Christmas | ManoMano Fulfilment, ManoMano Pro, Concrete Guarantee |
| Wayfair | 2-5 Days | Order £500+ | Within 30 Days | Way Day | Wayfair Professional |
| IKEA | 2 Days | N/A | Within 1 Year | Summer Sale, Winter Sale | 10 Year Warranty, IKEA Family |
| Dunelm | 3-5 Days | Order £49+ | Within 28 Days | Dunelm Summer Sale | 10-25 Year Upholstery Frame Guarantee |
| West Elm | 5–7 Days | Selected Products | Within 30 Days | Black Friday Sale | WEEE Recycling, Installment Paying |
| Barker & Stonehouse | 7-10 Days | N/A | Within 14 Days | January Sale | 5 Year Protection Plan, Interior Design Service |
| Furniture Village | Within 30 Days | N/A | Within 14 Days | Clearance Sale | 20 Year Structural Guarantee, Interest Free Credit on Orders Over £500 |
ManoMano: Elevate Your Home with DIY Delights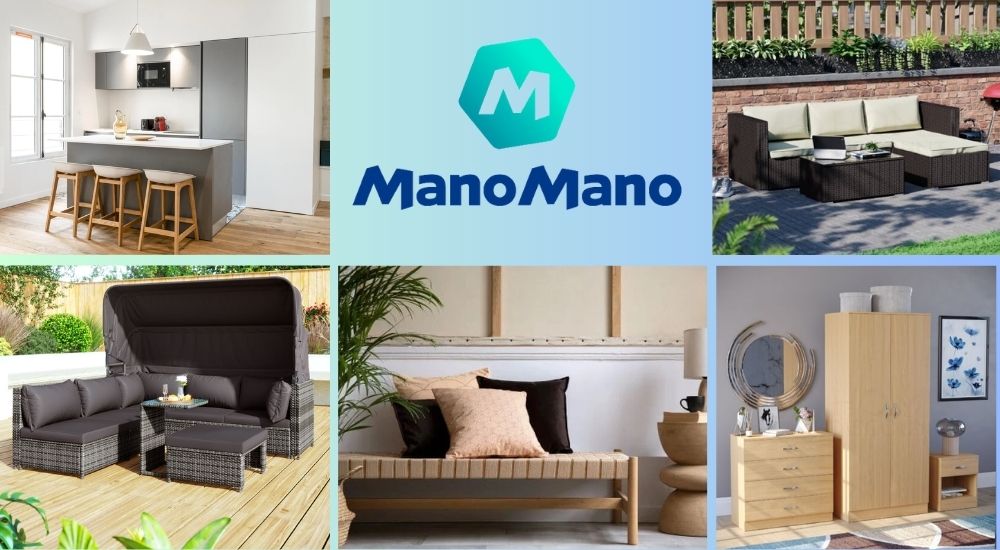 As we navigate through the realm of the best online furniture stores in the UK, one name emerges as a beacon of creative possibility and DIY enchantment – ManoMano. Founded in 2013 by Philippe de Chanville and Christian Raisson, this innovative platform has garnered significant attention for its exceptional offerings and distinctive approach to transforming living spaces. 
While ManoMano traces its roots to France, its popularity has rippled across borders, finding a warm reception among UK homeowners and DIY enthusiasts. With its curated range of furniture, home accessories, tools, and everything in between, ManoMano has fostered a growing community of users who seek personalized solutions to elevate their living spaces.
At the heart of ManoMano lies a thriving community fueled by creativity and collaboration. The platform encourages users to share their DIY projects and experiences. But the innovation doesn't stop there. ManoMano stands as a beacon of knowledge, offering expert advice and comprehensive how-to guides that cater to both novices and seasoned DIY enthusiasts.
In a world where personalization and creativity reign supreme, ManoMano has emerged as a trailblazer, inspiring individuals to take their homes from ordinary to extraordinary. With its expansive offerings, DIY ethos, and vibrant community, ManoMano is undeniably a force to be reckoned with in the world of online furniture stores in the UK.
Features:
User-Friendly Interface: The platform's intuitive design makes discovering products, comparing options, and making informed decisions a breeze.
Expert Advice and Tutorials: For those seeking guidance in their DIY endeavours, ManoMano offers a treasure trove of expert advice, how-to guides, and tutorials. 
Sustainability and Eco-Friendly Focus: Shoppers can explore a range of environmentally conscious options, aligning their home improvement efforts with their commitment to a greener future.
ManoMano Fulfilment: ManoMano is providing a service named "ManoMano Fulfilment" in order to provide the best possible client experience and alleviate logistical restrictions. The marketplace has been collaborating with warehouses in France and Spain to especially offer deliveries in 24 to 48 hours.
Pros:
Diverse Range of Products: ManoMano offers a comprehensive selection of furniture, home accessories, tools, and materials, making it a one-stop shop for all your home improvement needs.
Community Engagement: ManoMano fosters a strong community of like-minded individuals who share their DIY projects, experiences, and advice, creating a collaborative and supportive environment.
Exclusive Collaborations: Collaborations with renowned designers and brands offer distinctive and premium goods that differentiate themselves from standard offerings.
Flexible Return Policy: The product can be returned within 14 days after the purchase. ManoMano will pay for any shipping the price of returning a product in the event that it is damaged or the incorrect item has been delivered.
Installation on-demand: ManoMano offers an installation service through Frizbiz for product installation, which the customers can select at the time of purchase. This makes it easier for customers to use their newly purchased products without spending time or finding a professional online.
Cons:
Complexity for Beginners: While ManoMano empowers DIY enthusiasts, beginners might find the sheer range of options and tools overwhelming without sufficient guidance.
Competitive Pricing: While ManoMano offers competitive pricing, occasionally, you might find more cost-effective options through other platforms or local stores.
Delayed Shipping: There have been reports of delayed shipment from ManoMano by the customers.
ManoMano Trustpilot Reviews: What Customers Are Saying
Customers' opinions about ManoMano on Trustpilot are mixed, generating an overall rating of 2.8. While 55% of the reviewers rated 5 stars, there have been occurrences that caused 34% of customers to rate 1 star too. 
Positive reviews highlight the diverse product range, affordability, and ease of ordering. Satisfied customers praise the platform's community engagement, DIY inspiration, and helpful customer service. However, negative feedback centres around delivery issues and product quality concerns. While some appreciate ManoMano's offerings and support, others express frustration over logistical and product-related issues.
What makes ManoMano different from some more mainstream furniture stores?
ManoMano stands out from some other well-known merchants since it has a terrific team that is dedicated to putting together a wide range of goods. ManoMano has been offering top-notch home renovation products to customers worldwide since 2013. The availability of over 3000 shops at ManoMano makes selecting your desired brand easy. ManoMano offers more than 4 million products, giving you a wide range of choices. Additionally, while learning about top products available in over 6 nations, you can use Manomano's discount codes! ManoMano's 600 passionate employees are working hard to help you find the best do-it-yourself home improvement supplies. ManoMano is the official retailer where customers can find DIY products for incredibly affordable prices.
Wayfair

: Your Gateway to Exceptional Home Furnishings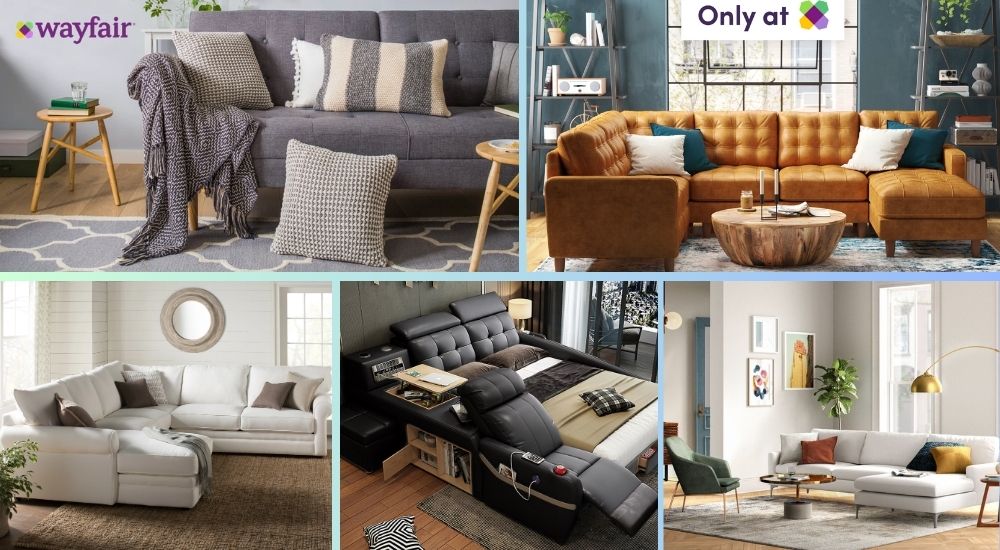 Embarking on a quest for the perfect furniture and decor to transform your living space? Look no further than Wayfair, a trailblazing online furniture store that has redefined the art of interior design since its inception in 2002. What sets Wayfair apart is not just its extensive selection but its commitment to creating an immersive and user-friendly shopping experience. As you navigate its digital aisles, you'll discover an array of intuitive features designed to simplify your journey. 
With its extensive selection, diverse styles, and commitment to delivering quality at your doorstep, Wayfair has solidified its position as a household name in the UK. The popularity of Wayfair in the UK is a testament to its ability to resonate with a wide spectrum of homeowners, decorators, and design enthusiasts. This online furniture giant has captured the attention and loyalty of countless individuals seeking to elevate their living spaces. From classic elegance to contemporary chic, Wayfair offers an unparalleled range of options to cater to diverse tastes and preferences.
Features:
Augmented Reality Features: Wayfair has updated its mobile app with an augmented reality feature called "View in Room 3D" that enables users to see how things will appear and fit in their homes. 
WayDay: WayDay is the much-awaited annual one-day sale event where products are discounted by up to 80%.
Hassle-Free Returns: Within 30 days of delivery, Wayfair accepts returns on the majority of items as long as they are undamaged and are in their original packaging.
Registry Services: Wayfair offers a wedding registry service, allowing couples to curate a wish list of home goods and furniture that their guests can purchase as gifts.
Wayfair Professional: The Wayfair Professional program caters to design professionals, offering exclusive discounts and tailored services.
Pros:
Curated Collections and Inspiration: The platform provides curated collections and inspiration galleries that showcase various design styles, trends, and seasonal themes.
Personalised Recommendations:Using data-driven algorithms, Wayfair provides personalised recommendations based on a user's browsing history and suggests products and preferences. This feature enhances the shopping experience by presenting relevant options.
Daily Sales and Flash Deals: Wayfair frequently offers time-limited sales events, including daily sales and flash deals, providing customers with opportunities to snag discounts on a wide range of products.
Assembly Services: Some larger furniture items on Wayfair come with the option to add professional assembly services at an additional cost. This convenience can be especially appealing for customers who prefer not to assemble furniture themselves.
Cons:
Quality Concerns: There is no way to know if the furniture item is comfortable or good quality until it is delivered.
Environmental Impact: Despite offering eco-friendly options, concerns may arise regarding the negative environmental impact of gas and packaging.
Delivery Times: Shipping is often quick, but it still takes time.
Assembly Required: Assembly is required for most items, and you need to pay extra charges for Wayfair assembly services.
Insights from Trustpilot Reviews for Wayfair
Wayfair emerges as a prominent contender, as revealed by customer reviews on Trustpilot. The sentiment among reviewers is diverse, painting a multifaceted picture of the Wayfair experience. Although almost 70% of the customers rated their Wayfair experience a 5 star, amidst the accolades, a few negative experiences crop up.
Positive reviews shine a spotlight on Wayfair's vast product selection and excellent customer service. The platform's commitment to affordability through sales, discounts, and flash deals also garners praise. 
On the contrary, delayed delivery times and occasional assembly frustrations are raised as points of concern. While many customers appreciate Wayfair's responsive and helpful customer service, a handful recount is encountering challenges during their interactions.
Why Choose Wayfair?
The fact that Wayfair offers more furniture alternatives and a larger variety of costs compared to conventional furniture retailers is a significant advantage. Over 14 million goods are sold by Wayfair over its five websites. It also boasts 80 "house brands," which are merely a means to classify and sell things into particular design aesthetics rather than being actual brands.
Wayfair, a technology-focused business, makes investments in search, marketing, and aesthetics to differentiate itself from traditional merchants that are only now going online. The business has also built the infrastructure necessary to send big, bulky, and frequently fragile pieces of furniture swiftly across the nation.
IKEA: Where Quality Meets Convenience
In the search for online furniture shopping in the UK, one name stands as an enduring beacon of both style and substance – IKEA. Founded in 1943, IKEA has transcended its become a worldwide powerhouse from modest origins in the realm of furniture and interior design.
Unveiling an array of well-crafted furniture and home accessories, IKEA has mastered the art of making design accessible to all, regardless of budget. Each visit or online exploration reveals a symphony of options, from minimalist Scandinavian chic to bold and vibrant expressions of individual style. Its products aren't merely objects; they are solutions that transform spaces, optimise storage, and simplify daily routines. From modular shelving units that adapt to evolving needs to multi-purpose furniture that maximises every inch of a room, IKEA's offerings are a testament to the brand's commitment to enhancing the way we live.
Features:
Flat-Pack Design: One of IKEA's most iconic features is its flat-pack furniture design. Items are efficiently packaged in flat boxes, allowing for easy transportation and reducing shipping costs.
IKEA Family Program: The IKEA Family loyalty program offers members exclusive discounts, special offers, and access to workshops and events. 
Buy Back Scheme: Through their buy-back programme, clients may dispose of their used IKEA furniture in exchange for cash. IKEA will take this old furniture and reuse and recycle it to create new IKEA products at the same time.
DIY Culture: IKEA embraces a do-it-yourself (DIY) culture, encouraging customers to assemble their own furniture. This not only reduces costs but also empowers customers to actively participate in developing their ideal living spaces.
Pros:
Affordability: One of the standout features of IKEA is its affordable pricing. The brand's commitment to offering well-designed products at accessible price points makes it a popular choice for budget-conscious shoppers.
Functional Design: IKEA products are often designed with functionality in mind, incorporating innovative solutions for storage, space optimisation, and multi-purpose use. This makes them especially suitable for smaller living spaces.
Less Storage Required: IKEA furniture is lightweight and portable, making it simple to move from one place to another.
Cons:
Quality Concerns: Some critics argue that IKEA's focus on affordability may lead to compromises in terms of product quality and durability, particularly when compared to higher-end furniture brands.
Lack of Individualization: While IKEA's products are designed to be versatile, they may not fully cater to unique or specific design preferences. Customers seeking truly customized or bespoke pieces might find IKEA's offerings limiting.
Voices of the Homefront: Unveiling the IKEA Experience Through Trustpilot Reviews
This collection of Trustpilot reviews paints a multifaceted picture of the IKEA shopping experience in the United Kingdom. Customers share their thoughts, both positive and critical, shedding light on various aspects of interacting with the beloved Swedish retailer. From raving about affordability, functionality, and stylish designs to raising concerns about assembly challenges, customer service, and product quality, these reviews provide a candid glimpse into the IKEA journey.
While the positive reviews mentioned their amazing customer service and praised their flat-pack design, the negative comments about poor delivery systems and furniture with compromised quality were also mentioned.
Why choose IKEA?
IIKEA, a global retailer of home furnishings with more than 300 locations, dominated the furniture market at the beginning of the twenty-first century. IKEA is known for its low-cost Products are typically provided in simple "flat-pack" packaging so that consumers may assemble them at home. The best place to go if you're seeking affordable furnishings is certainly IKEA. Last but not least, IKEA's designs often lean toward a modern and minimalist aesthetic, making them versatile and adaptable to various interior styles.
Dunelm: Elevating Home Comforts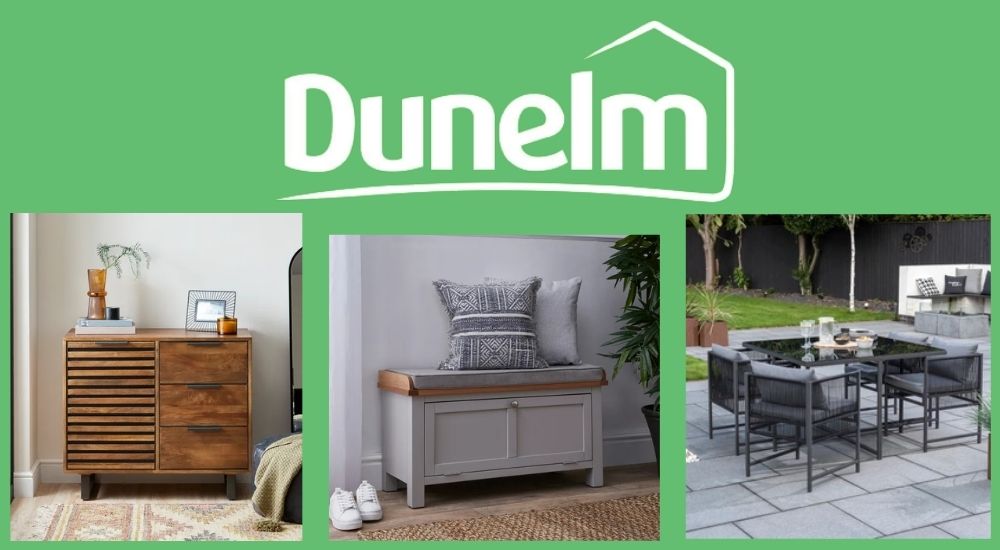 Step into a world of homely elegance and discover a shopping haven that's captured the hearts of households across the United Kingdom – Dunelm. Renowned for its commitment to quality, style, and affordability, Dunelm has solidified its position as a go-to destination for furniture and home essentials. With a remarkable blend of classic charm and contemporary flair, Dunelm has carved a niche as a beloved retailer, offering a curated selection that provides for a variety of tastes and preferences. From its humble beginnings, Dunelm has flourished into a beacon of home furnishing excellence, providing customers with a diverse array of products that extend beyond furniture to encompass textiles, décor, and everything needed to infuse warmth and personality into living spaces. Join us as we embark on an exploration of Dunelm's distinctive features, unwrapping the reasons behind its popularity and delving into the offerings that have made it a beloved choice for countless households seeking to elevate their interiors.
Features:
Variety of Styles: Whether customers seek classic elegance, modern minimalism, or eclectic vibrancy, Dunelm offers furniture and decor options to suit a multitude of styles and preferences.
User-Friendly Online Shopping: Dunelm's online platform provides a seamless and user-friendly shopping experience, allowing customers to easily browse, compare, and purchase items from the comfort of their homes.
Quality Assurance: Dunelm is committed to delivering quality products, ensuring that customers receive items that stand the test of time and contribute to the longevity of their homes.
Extensive Product Range: Dunelm offers a vast and diverse collection of furniture, home decor, textiles, lighting, and more, catering to a wide spectrum of design preferences and living spaces.
Pros:
Quality and Durability: Many customers appreciate the quality and durability of Dunelm's products, which contribute to the longevity of their homes.
Affordability: Dunelm's products are known for their reasonable prices, making them an attractive choice for budget-conscious shoppers.
Customisation Options: Many Dunelm products come in various colours, patterns, and sizes, enabling customers to personalise their selections to suit their preferences.
Inspiration and Ideas: Dunelm accepts new ideas from customers.
Cons:
Customer Service: While Dunelm offers customer support, some clients have complained about response times and the resolution of inquiries or concerns.
Assembly Required: Some furniture items may require assembly, which could be a challenge for customers who prefer fully assembled pieces.
Delivery Times: some clients have complained about response times and the resolution of inquiries or concerns, which could be frustrating for those with time-sensitive needs.
Exploring Dunelm's Trustpilot Reviews
Dunelm has a 3.1-star rating on Trustpilot, with 69% of 5-star reviews and 16% of 1-star reviews. The satisfied customers talked about how Dunelm has amazing customer service and top-quality furniture, while the others mostly complained about their delayed delivery process.
This compilation of Trustpilot reviews provides a comprehensive snapshot of the Dunelm shopping experience. Customers' opinions, both positive and critical, offer a well-rounded perspective on various aspects of engaging with the renowned UK-based retailer. Ranging from applauding the vast product range, affordability, and design aesthetics to voicing concerns about customer service, delivery, and product quality, these reviews offer a candid glimpse into Dunelm's impact on home improvement journeys.
Why choose Dunelm?
For all of your needs in home furnishings, you can turn to Dunelm, a reputable internet retailer. With its wide selection, reasonable prices, user-friendly website, and dedication to quality, Dunelm has remained a top option for customers looking to furnish their homes with lovely and cosy environments. Additionally, they offer helpful tools to encourage and support clients in their home improvement tasks. Their comprehensive site, which is available for free, includes posts on current interior design trends, organising and decorating advice, and how-tos for setting up a peaceful living space. You will always be happy with the items and services you receive, thanks to their great customer service. At Dunelm, every win is a victory.
Exploring the Allure and Distinctiveness of West Elm Furniture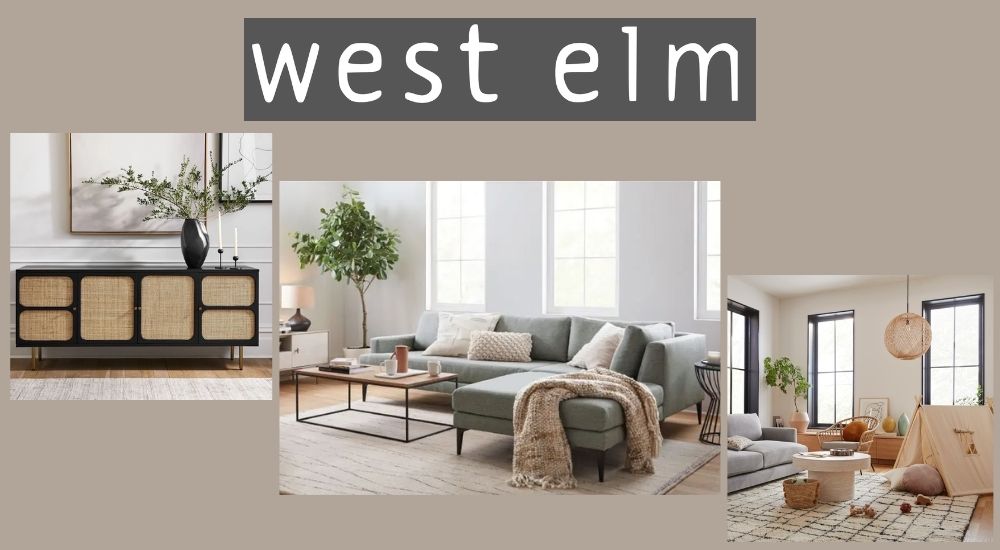 West Elm, a renowned name in the world of home furnishings and decor, has emerged as a distinctive and popular choice among consumers in the United Kingdom. With its unique blend of contemporary designs, exceptional quality, and a commitment to sustainability, West Elm has established itself as a go-to furniture shop for those seeking to elevate their living spaces. Offering an array of meticulously crafted furniture pieces, decor items, and accessories, West Elm combines style and functionality to create interiors that resonate with modern sensibilities. This article delves into the factors that contribute to West Elm's popularity in the UK, explores what sets it apart as a premier furniture destination, and highlights the diverse range of offerings that make each visit to the store a captivating experience.
Features:
Contemporary Elegance: West Elm stores are designed to showcase a harmonious fusion of contemporary design and timeless elegance. The store layout and displays reflect the brand's commitment to clean lines, minimalist aesthetics, and a sense of sophistication that resonates with modern sensibilities.
Collaborations and Exclusives: West Elm collaborates with acclaimed designers, artists, and brands to offer exclusive collections that showcase innovative design concepts.
Enduring Value: West Elm's pieces are designed to transcend trends, providing enduring value that remains relevant even as styles evolve.
Quality Craftsmanship: The store's dedication to producing well-made, durable products ensures that customers invest in furniture that not only looks great but also stands the test of time.
Community Engagement: Beyond shopping, West Elm stores often host workshops, events, and design seminars that foster a sense of community and provide customers with opportunities to learn, engage, and refine their design skills.
Pros:
Modern and Stylish Designs: West Elm is known for its contemporary and stylish furniture designs that cater to modern aesthetics, making it a popular choice for individuals who appreciate clean lines and minimalist looks.
Sustainable Practices: The brand is committed to sustainability and offers a selection of eco-friendly and responsibly sourced products, appealing to environmentally conscious consumers.
Personalisation: Many West Elm stores offer design services and personalised assistance, helping customers choose the right pieces to match their style and needs.
Cons:
Returns and Customer Service: Some customers have reported mixed experiences with West Elm's customer service and returns process, including issues with refunds and exchanges.
Trend-Oriented: West Elm's designs often reflect current trends, which can be a positive for those seeking modern aesthetics. However, this could mean that some pieces may feel less timeless as trends change over time.
Navigating West Elm's Trustpilot Reviews
Trustpilot reviews for West Elm present a varied customer experience. Positive feedback highlights commendable customer service, particularly regarding smooth product returns and replacements. Many customers appreciate the efficient handling of inquiries and issues. However, the reviews also reveal shortcomings, such as instances of broken or damaged items upon delivery, as well as occasional mix-ups resulting in the receipt of incorrect orders. While West Elm receives accolades for its responsive support and seamless returns process, concerns about product quality, packaging, and order accuracy underscore the need for consistent improvement in these areas.
What makes West Elm unique?
Fans of the mid-century era will adore West Elm for its ability to take traditional shapes and seamlessly incorporate them with more contemporary designs, textures, and hues. With its earthy colour scheme and sophisticated aesthetics, the Brooklyn-based company clearly knows how to include a little of the neighbourhood's aesthetic into its products. Still not persuaded? You should be aware that West Elm also supports Fair Trade and environmentally friendly manufacturing practices, using organic cotton for its bed linen and bath towels. So, if you're looking for luxe good designs that are equal parts chic and comfortable, West Elm is a clear winner here.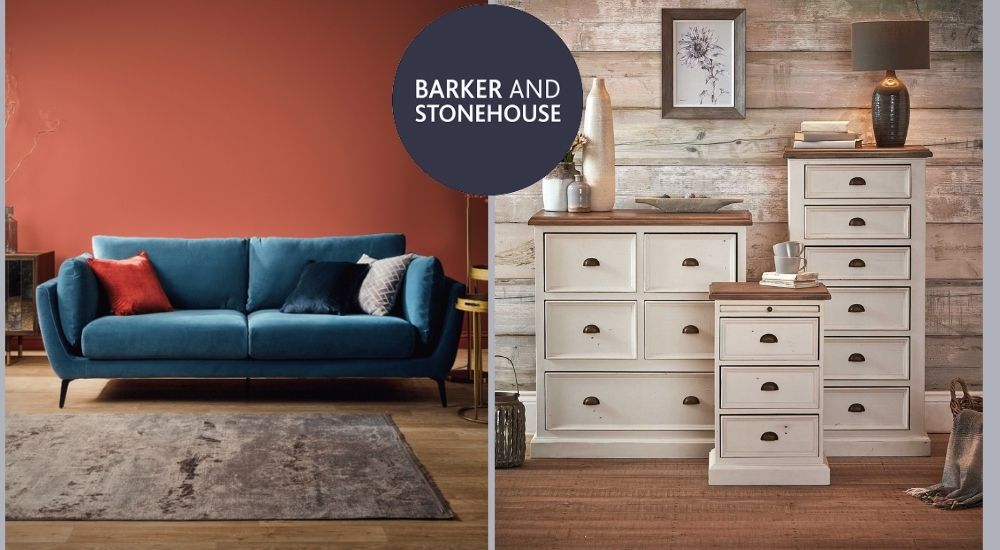 In the ever-evolving world of interior design and home decor, the quest for exceptional furniture finds its zenith in the virtual aisles of online stores. Among the premier contenders in the United Kingdom's furniture landscape, Barker & Stonehouse emerges as a stalwart, captivating the hearts and homes of countless enthusiasts. With an illustrious legacy dating back over seven decades, Barker & Stonehouse has solidified its popularity in the UK through a harmonious blend of timeless appeal, diverse offerings, and unwavering commitment to quality. As we embark on a journey through the crème de la crème of virtual furniture emporiums, let us delve into what makes Barker & Stonehouse a cherished choice among discerning shoppers. From its curated collections that cater to diverse tastes to its impeccable customer service, let's uncover the irresistible allure of this remarkable online furniture haven.
Features:
Innovative Designs: Embracing the spirit of innovation, Barker & Stonehouse introduces cutting-edge designs that push the boundaries of creativity. Their pieces seamlessly blend timeless elegance with modern flair, resulting in furniture that's both functional and visually captivating.
Uncompromising Quality: Their offerings reflect a dedication to craftsmanship and attention to detail, ensuring that every piece not only looks exquisite but stands the test of time.
Inspiration Hub: With informative articles, trend guides, and expert tips, the Barker & Stonehouse website goes beyond shopping to offer a wealth of insights that empower customers to make informed design decisions.
Community Engagement: They frequently engage with their audience through social media, events, and workshops, creating a space where like-minded individuals can share their passion for interior design.
Pros:
Exceptional Customer Care: Beyond the transaction, Barker & Stonehouse is dedicated to fostering lasting relationships with its customers. Their exceptional customer care ensures that every interaction is met with attentiveness, responsiveness, and a commitment to resolving any queries or concerns.
Personalised Design Services: Their team of experienced design consultants is readily available to guide customers through the process of creating their dream spaces. From layout suggestions to colour coordination, these experts ensure that every design vision is realised to perfection.
Sustainability:  Barker and Stonehouse are a carbon-neutral plus brand – the first UK furnishings retailer to be awarded this reward.
Cons:
Price Range: The prices at Barker & Stonehouse are on the higher side compared to other furniture retailers, which could limit accessibility for budget-conscious shoppers.
Product Availability: Due to the curated nature of their collections, certain items might go out of stock or have limited availability, which could be disappointing for customers looking for specific pieces.
Unveiling Barker & Stonehouse's Trustpilot Triumph
Barker & Stonehouse, crowned with a stellar 4.9 Trustpilot rating and adorned with an impressive 87% of 5-star reviews, emerges as a beacon of excellence in the world of furniture retail. Enthusiastic customers echo praises for top-tier quality, seamless product delivery, and exceptional customer service, crafting a symphony of satisfaction that resonates across the virtual aisles. However, like a melody with a subtle note of discord, a handful of reviews mention delayed deliveries, serving as a reminder of the challenges posed by logistics. Amidst the harmonious chorus of acclaim, Barker & Stonehouse proves its mettle, orchestrating a virtuoso performance that captures the hearts of its patrons.
Why shop from Barker & Stonehouse?
Shopping from Barker & Stonehouse offers a symphony of compelling reasons to elevate your interior design journey. Each piece at Barker & Stonehouse tells a story of artistry and thoughtfulness. Their meticulously curated collections fuse innovation with timeless charm, ensuring your home becomes a canvas where stories of style and sophistication unfold. Barker & Stonehouse's unwavering commitment to craftsmanship ensures that each piece not only captivates with its aesthetics but endures with its enduring quality. With Barker & Stonehouse, you can elevate your space while contributing to a greener tomorrow. Shopping from Barker & Stonehouse isn't just acquiring furniture; it's embarking on an artistic voyage that transforms your living space into an embodiment of elegance.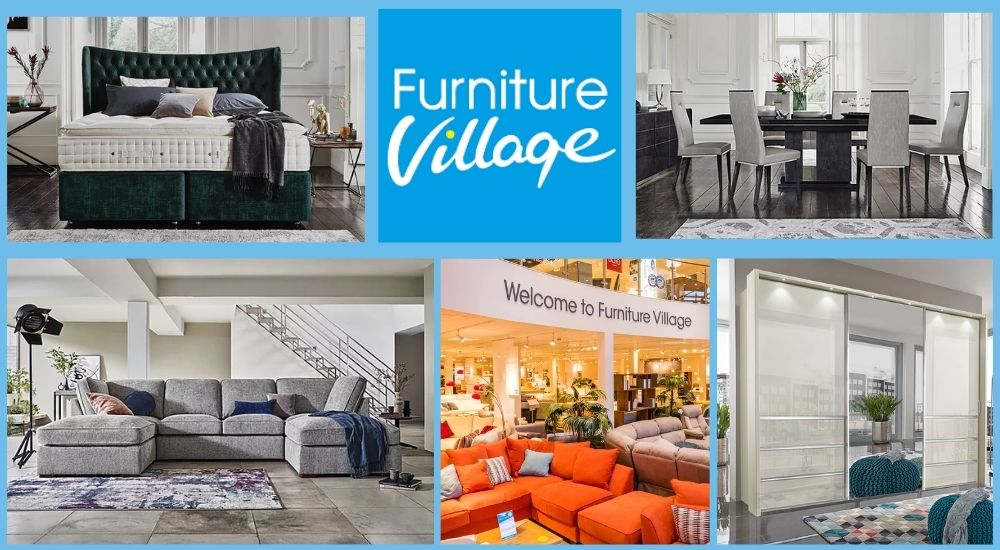 In the tapestry of online furniture shopping, the name Furniture Village stands as a resplendent gem, captivating the hearts and homes of countless individuals across the United Kingdom. Furniture Village, with its unwavering commitment to quality, style, and customer-centricity, emerges as a shining star in the constellation of online furniture stores. From its inception, Furniture Village has woven itself into the fabric of British homes, elevating living spaces through its exceptional offerings. What sets this store apart is not merely the sumptuous furniture it offers but the transformative experience it provides. With a plethora of furniture styles, designs, and brands, Furniture Village creates a symphony of possibilities, where each piece becomes a note in the melody of personal expression.
Feature:
Diverse Range of Styles: Whether your taste leans towards contemporary chic, timeless classics, or something in between, Furniture Village offers an extensive array of furniture styles to cater to every design preference and aesthetic inclination.
Comprehensive Collections: From sumptuous sofas that beckon relaxation to elegant dining sets that redefine gathering spaces, Furniture Village's comprehensive collections encompass a wide range of furniture types, allowing you to effortlessly create cohesive and stylish interiors.
Brand Variety: Furniture Village partners with renowned brands, ensuring a curated selection of top-quality furniture and decor. 
Pros:
Value and Affordability: Balancing quality with value, Furniture Village offers a range of price points to accommodate various budgets, ensuring that exceptional furniture is accessible to a wide audience.
User-Friendly Website: The online platform offers a user-friendly layout that makes browsing for clients simple through collections, viewing product details, and making informed purchasing decisions.
Customer-Centric Approach: Furniture Village places a strong emphasis on customer satisfaction, offering responsive customer support, efficient delivery services, and a seamless shopping experience from start to finish.
Cons:
Delivery Times: Depending on location and specific orders, delivery times may vary, and some customers might experience delays in receiving their furniture.
Return and Exchange Policy: While Furniture Village offers a return and exchange policy, customers might encounter challenges or limitations in returning items, especially for larger furniture pieces.
Furniture Village Experience: Trustpilot Reviews Paint a Vivid Picture
Furniture Village, adorned with a 4.6 Trustpilot rating, weaves a compelling narrative of quality and service that resonates across its customer reviews. With glowing accolades for top-notch product quality, seamless customer service, and a smooth delivery process, Furniture Village stands tall as a bastion of excellence in the realm of furniture retail. Yet, amidst this symphony of acclaim, a few threads of discord emerge. Some customers express frustration over challenging return and refund policies, while others note disparities between the product received and its online portrayal. As the story unfolds, Furniture Village's commitment to craftsmanship and service shines, but echoes of refinement in their post-purchase experience resonate as a call for continued improvement.
Why Choose Furniture Village?
Furniture Village has a 20-year warranty, which is the key factor in our opinion and that of our clients that Furniture Village is the best at what they do. This implies that you are entitled to a free replacement if any springs, frames, joints, or legs are broken during shipping or use. Even better, you receive the same warranty for two years on their less expensive sale items.
Choosing Furniture Village offers a voyage into unparalleled quality, design, and service, creating an unmatched haven for transforming your living space. Discover quality beyond compare, from eco-friendly choices to timeless classics, all supported by a customer-centric approach and a wealth of design resources. Join a passionate community, explore renowned brands, and witness furniture firsthand in showrooms. With Furniture Village, your home becomes a realm of endless possibilities, where every piece tells a story of style, sustainability, and unmatched sophistication.