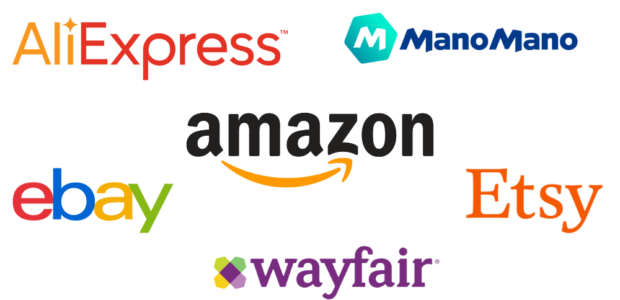 If you enjoy shopping online frequently, you probably know about Amazon UK.  As an extension of the global Amazon platform, it offers a vast array of products spanning various categories, including electronics, fashion, books, home goods, and more. With its user-friendly interface, efficient delivery services, and customer reviews, Amazon UK has become a go-to destination for online shoppers seeking convenience and a diverse selection. while Amazon UK offers numerous benefits, exploring alternative online retailers can help shoppers discover unique products and potentially more competitive prices. That's why we're thrilled to share our top 5 alternatives to Amazon UK with you. We'll give you a detailed breakdown of the benefits and drawbacks of each store so that you can make an informed decision and find the perfect fit for your requirements and budget. Have a great time shopping!
Store
Global Shipping
Free Shipping
Standard Delivery
Refund
Exclusive Feature
ManoMano
N/A
On Selected Product
Depends On Order Size
Maximum of 15 working days
Project Guides,
Provides $25 off on First order
eBay
Available
Occasionally
Within 4 business days
Within working days
Mobile App, Seller Tools and Customization
Wayfair
Available
Over $35 qualify for free shipping
Within one to seven business days
Within 5-7 days or 2 Weeks
Personalization, Affordable Options
AliExpress
Available
On Selected Product
Within15-45 days
Within 15 working days)
Buyer Protection, Frequent Sales and Discounts
Esty
Available
Based on Promo Codes
3 to 7 business days, 10 to 30 working days for international shipments
2–5 business days (Qualifying orders up to $250 USD)
Customization
ManoMano: A Unique Amazon UK Alternative
If you're looking for an alternative to Amazon UK for your online shopping needs, ManoMano might just be the answer you're looking for. This French-based e-commerce platform has been making waves in the UK market, offering a vast range of DIY and home improvement products at competitive prices. Whether you're a DIY enthusiast or just looking to spruce up your home, ManoMano has everything you need. From power tools and building materials to furniture and home decor, you'll find it all on ManoMano.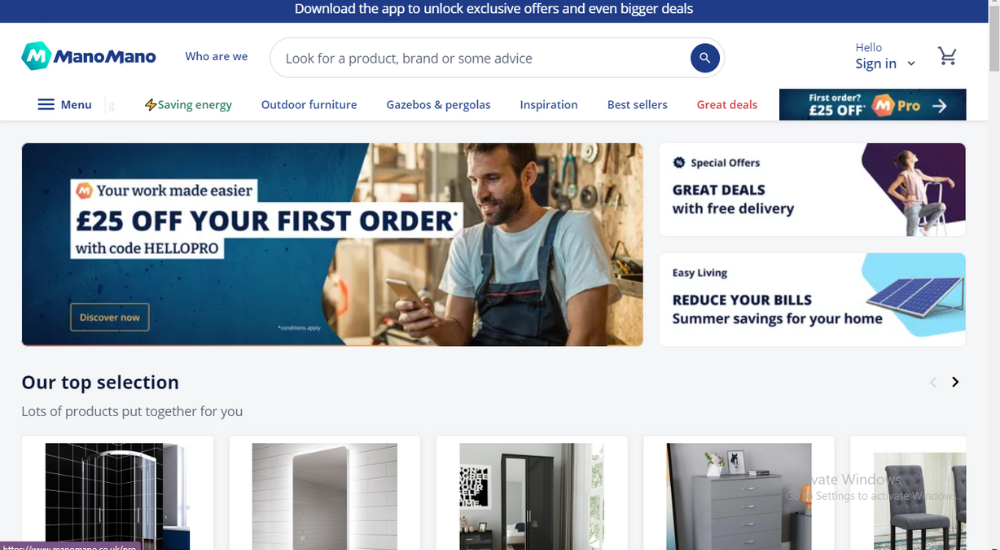 One of the great things about ManoMano is the community of sellers and buyers. You can read reviews and ask questions to other users to make sure you're making the right purchase. Plus, ManoMano offers a 14-day return policy and a customer service team that's available to help with any issues you may have.
So, if you're tired of sifting through the same old products on Amazon UK and want to discover something new and exciting, why not give ManoMano a try? With a huge selection of products, competitive pricing, and excellent customer service, it's no wonder this platform has become a go-to for DIY enthusiasts and homeowners alike.
Store Feature
Project Guides: ManoMano's project guides offer step-by-step instructions for various tasks, making it an invaluable resource for DIY novices and experts alike.
Interactive Community: Users can share their projects, seek advice, and exchange ideas, creating an engaging community of DIY enthusiasts.
Customer Support: ManoMano's customer support is geared towards the unique needs of DIYers, providing assistance in selecting the right products for specific projects.
Variety of Brands: The platform collaborates with a diverse range of brands, ensuring a selection of reputable products for customers.
Pros

:
Specialized Selection: ManoMano's focus on DIY and home improvement ensures a curated selection tailored to home projects, allowing for easier browsing and decision-making.
Expert Guidance: The platform provides expert advice and guides, empowering shoppers with the knowledge they need to tackle various projects confidently.
Competitive Prices: ManoMano often offers competitive prices on tools, materials, and equipment, providing potential savings for DIY enthusiasts.
Community Interaction: The platform fosters a sense of community through product reviews, project sharing, and interactions with fellow DIYers.
Exclusive Coupons and Deals: Keep an eye out for exclusive coupons and deals that pop up on ManoMano. These limited-time offers can make your DIY endeavors even more budget-friendly, allowing you to take on bigger and bolder projects.
Cons:
Limited Scope: While ManoMano excels in DIY and home improvement, its product range might not cover the vast variety found on Amazon UK.
Niche Appeal: The platform's specialized focus may not cater to shoppers seeking items outside the DIY and home improvement realm.
ManoMano UK Trustpilot Customer Review: 
Navigating the spectrum of ManoMano UK Trustpilot customer reviews reveals a mixed sentiment from the community. While many customers laud the platform's extensive range of DIY and home improvement products, competitive prices, and user-friendly website that simplifies the shopping experience, others express concerns regarding customer service response times, delivery delays, and occasional discrepancies in product quality. The positive reviews highlight ManoMano's role as a go-to hub for home project essentials and commend its commitment to affordability, while the critical feedback underscores the need for consistent improvement in areas like communication and timely order fulfilment. As with any platform, customer reviews reflect a nuanced blend of satisfaction and challenges, offering prospective buyers insights to make informed decisions based on their individual priorities and preferences.
Discovering eBay: Go-To Alternative for UK Shoppers
As an alternative to Amazon, eBay offers a distinct online platform that brings together buyers and sellers in a unique way. While Amazon primarily serves as a retail giant that directly sells products, eBay acts as a marketplace where individuals and businesses can both list items for sale and shop for a wide array of products. This creates a diverse ecosystem with a focus on auctions and bidding, allowing users to find rare and collectible items that may not be readily available on Amazon. Furthermore, eBay's auction-style format, along with the "Buy It Now" option, encourages competitive pricing and a sense of discovery.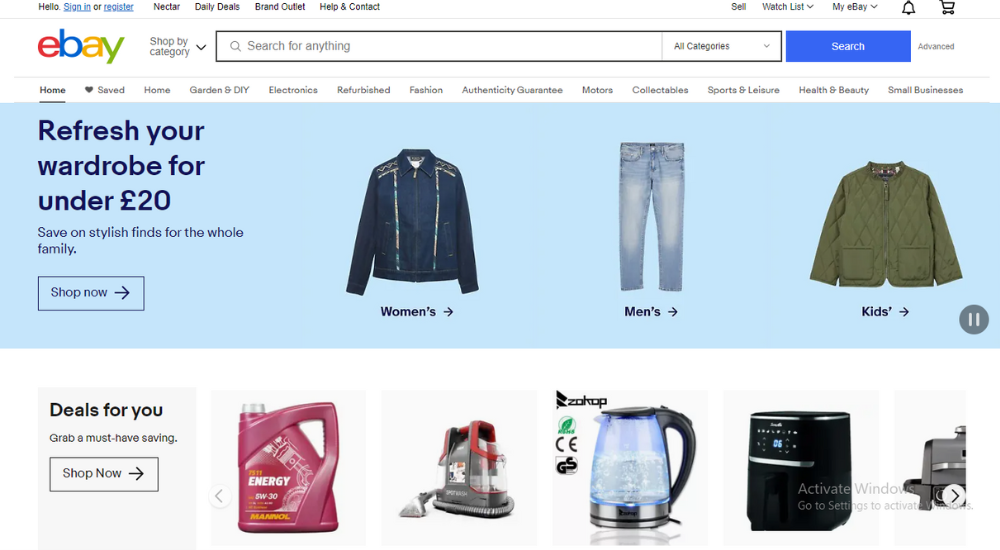 In terms of customer service, eBay provides assistance through its customer support channels, helping resolve issues and concerns related to purchases and sales. The platform also boasts a robust feedback system where buyers and sellers can rate their experiences, promoting transparency and trust within the community. When it comes to delivery and returns, eBay offers a range of shipping options, allowing sellers to choose their preferred methods.  While both Amazon and eBay offer unique strengths, eBay's emphasis on individual sellers, auctions, and distinctive items makes it a compelling alternative for those seeking a diverse online shopping and selling experience.
Store Feature
Wide Variety of Store: eBay's expansive marketplace hosts a plethora of stores, both big and small, catering to virtually every interest and need. Whether it's fashion, electronics, collectibles, or home essentials, buyers can choose from an extensive selection of stores that specialize in their desired product categories. From well-established brands to unique, niche sellers, eBay ensures a diverse shopping experience that speaks to individual tastes.
Flexible Return Policies: If a buyer has returned an item to the seller and hasn't received a refund within two business days, they have the option to seek assistance from eBay. It's important to note that while most refunds are processed promptly, some situations might require additional time. Buyers can easily track the progress of their refund request and ascertain the specific deadline for the refund by checking the status of their return. This ensures that the buyer remains informed and empowered throughout the process.
Easy Communication: Clear communication is pivotal in any online transaction. eBay's messaging system enables direct communication between buyers and sellers, facilitating quick resolutions to queries and concerns. This open line of communication fosters transparency and mutual understanding.
Efficient Customer Service: For those times when questions can't be resolved through direct communication, eBay's dedicated customer service team steps in. With a wealth of knowledge and a commitment to assisting users, eBay's support team ensures that issues are addressed promptly and professionally.
Global Shipping Program: eBay's Global Shipping Program streamlines international transactions, enabling sellers to ship products to buyers in different countries without the hassle of navigating complex shipping logistics. This feature opens up a world of shopping possibilities, connecting buyers and sellers from various corners of the globe.
Flexible Selling Options: Sellers can choose between auction-style listings and fixed-price "Buy It Now" listings. Auctions create a sense of competition that can drive prices up, while fixed-price listings offer immediate purchase options, catering to different buyer preferences.
Pros 
Seller Tools and Customization: eBay equips sellers with tools to create professional listings, track inventory, and manage their stores efficiently. Customization options let sellers brand their shops to establish a unique online presence.
Bidding Excitement: The auction-style format generates excitement and engagement among buyers who enjoy the thrill of competitive bidding, potentially resulting in higher prices for unique or sought-after items.
Variety of Payment Options: Buyers and sellers have multiple payment choices, including PayPal and major credit cards, fostering secure and seamless transactions.
Mobile App Convenience: The eBay mobile app empowers users to browse, buy, and sell on the go, enhancing accessibility and convenience.
Cons
Fees and Costs: One notable downside of eBay is the various fees and costs that both buyers and sellers can encounter. Sellers may face listing fees, final value fees (a percentage of the sale price), and additional charges for optional features like bold listings or extra images. These costs can eat into a seller's profit margin. Buyers might also encounter shipping and handling fees, which can sometimes make the overall purchase more expensive than initially anticipated.
Competition and Pricing Pressure: The competitive nature of eBay's marketplace can pose challenges for sellers. With numerous listings for similar products, sellers might find it difficult to stand out or set competitive prices. This can lead to pricing pressure, potentially driving prices lower and impacting sellers' profitability.
Limited Control over Platform Changes: eBay's policies and features can change over time, impacting how sellers operate. Sellers might find themselves having to adapt to new rules or features that can alter their strategies and approaches.
Customer Experiences of eBay on Trustpilot 
eBay UK evokes a range of sentiments among its customers. While some applaud its extensive selection spanning from tech gadgets to vintage finds, others recount tales of communication hiccups with sellers and delayed deliveries. The auction-style bidding fuels excitement for bargain seekers, yet at times, product quality may not always meet expectations. Buyers appreciate the array of payment options, including PayPal, which enhance security, but occasional discrepancies in item descriptions can lead to dissatisfaction. Overall, eBay UK emerges as a vibrant platform that offers incredible variety and potential, though customer experiences are a mosaic of highs and lows, reminding us that diligent research and cautious optimism are key to unlocking its full potential.
Wayfair: Your Personalized Alternative to Amazon for Home Essentials
Wayfair stands as a distinguished online shopping platform, offering a compelling alternative to market giants like Amazon. Recognized for its extensive array of home goods, furniture, decor, and more, Wayfair boasts an exceptional range of choices that cater to diverse tastes and preferences. Through interactive design tools and personalized recommendations, Wayfair provides a unique and intuitive shopping journey, fostering a sense of connection and convenience. The platform's user-friendly interface, comprehensive product information, and customer reviews aid shoppers in making informed decisions. Wayfair's commitment to quality and affordability aligns with its mission to make every home a haven.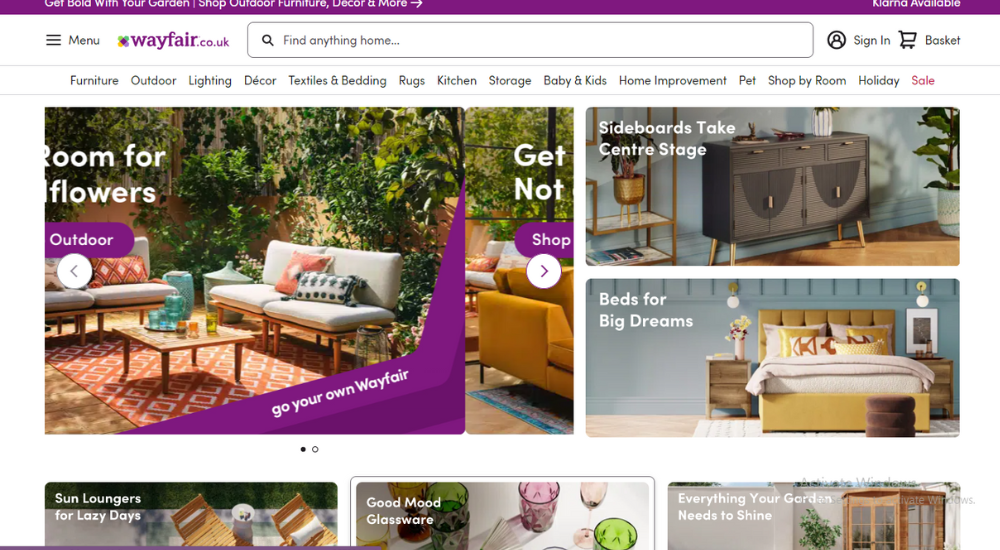 With various pricing options, sales, and deals, Wayfair ensures that customers can find items within their budget. The platform's efficient delivery services and responsive customer support further contribute to its appeal. The exceptional customer service further reinforces this, providing expert guidance and assistance throughout your shopping journey. Wayfair's continuous efforts to innovate and improve the online shopping encounter solidify its position as a notable contender in the e-commerce landscape.
Store Feature
Wide Selection of Products: Wayfair boasts an extensive assortment of furniture, home goods, decor, and more. With a catalogue that spans various styles, budgets, and preferences, customers can explore and discover items that resonate with their personal tastes and interior design aspirations.
Quality Assurance: Wayfair places a premium on the quality of its products. With detailed product descriptions, images, and customer reviews, customers can make well-informed decisions about the items they wish to purchase. Wayfair's commitment to quality helps alleviate any apprehensions customers might have about buying furniture and decor online.
User-Friendly Website: Navigating through Wayfair's website is an intuitive experience. The website is designed with the customer in mind, offering simple categorization, helpful filters, and comprehensive product descriptions. This ensures that customers can make informed decisions and find items that match their specific requirements.
Return and Refund Policies: Wayfair's return and refund policies are designed to accommodate customer needs. Refunds usually take 5-7 days, extending up to 2 weeks if necessary. Return shipping costs are deducted from refunds. Initial delivery charges, upgraded shipping fees, and service enhancements won't be refunded, ensuring transparency in the process.
Customer-Centric Approach: Wayfair prides itself on prioritizing its customers. The company is committed to addressing any concerns promptly and effectively. Its customer service team is available to answer questions, provide guidance, and resolve any issues that may arise, ensuring a positive shopping experience.
Pros
User-Friendly Interface: Its intuitive website and app make browsing and purchasing a seamless experience, even for those less tech-savvy, fostering a user-centric environment.
Affordable Options: Wayfair offers a range of products catering to different budgets, granting customers access to quality items without breaking the bank..
Personalization: The platform recommends products based on browsing history, tailoring the shopping journey and delivering a personalized touch.
Timely Promotions: Frequent sales, discounts, and special deals provide opportunities for customers to snag their desired items at reduced prices.
Responsive Customer Service: Wayfair's dedicated support team promptly addresses queries, concerns, and returns, enhancing the overall shopping experience.
Hassle-Free Delivery: Reliable shipping partners ensure products reach customers in good condition and on time, minimizing delivery concerns.
Cons
Quality Discrepancies

: Some customers have reported receiving items that don't match the quality depicted online, leading to disappointment and frustration.
Pricing Transparency: Wayfair has been criticized for its pricing practices, including alleged price hikes before sales events, making it difficult for customers to assess genuine discounts.
Delivery Challenges: Numerous complaints highlight issues with delayed deliveries, damaged goods, and poor customer service response, causing inconvenience and dissatisfaction.
Unveiling Wayfair Through Customer Experiences on Trustpilot 
Wayfair has garnered mixed but intriguing reviews from customers on Trustpilot. A vast majority express delight with the extensive catalog that seemingly holds a piece for every taste. The platform's user-friendly interface and search options have also won over shoppers, making searching for the perfect item an enjoyable adventure. However, authenticity requires acknowledging the less sunny perspectives. Some patrons have raised concerns about delivery timelines occasionally extending beyond expectations. A fraction noted minor discrepancies between the product received and the online image, underlining the need for improved quality control. In contrast, narratives of excellent customer service stand out as beacons of light. Wayfair's adeptness in addressing issues, offering timely solutions, and providing friendly assistance has earned plaudits from several customers. Heartening stories also revolve around Wayfair's commitment to rectify errors, often exceeding expectations.Ultimately, Wayfair emerges as a dynamic marketplace where visions of cozy homes come alive. While occasional hiccups exist, the majority of customers find their experiences rewarding. The symphony of positive and critical reviews renders Wayfair not as a distant entity, but a platform shaped by human interactions – an entity striving to refine the art of turning houses into homes.
AliExpress: Your Global Shopping Destination
AliExpress stands as a vibrant alternative to Amazon, offering a diverse marketplace that connects consumers with sellers worldwide. The platform boasts a wide array of products, ranging from electronics to fashion, at competitive prices. AliExpress's delivery services prioritize customer convenience, with options for swift international shipping and reliable tracking. What truly sets AliExpress apart is its commitment to service excellence, where personalized support addresses queries and concerns promptly.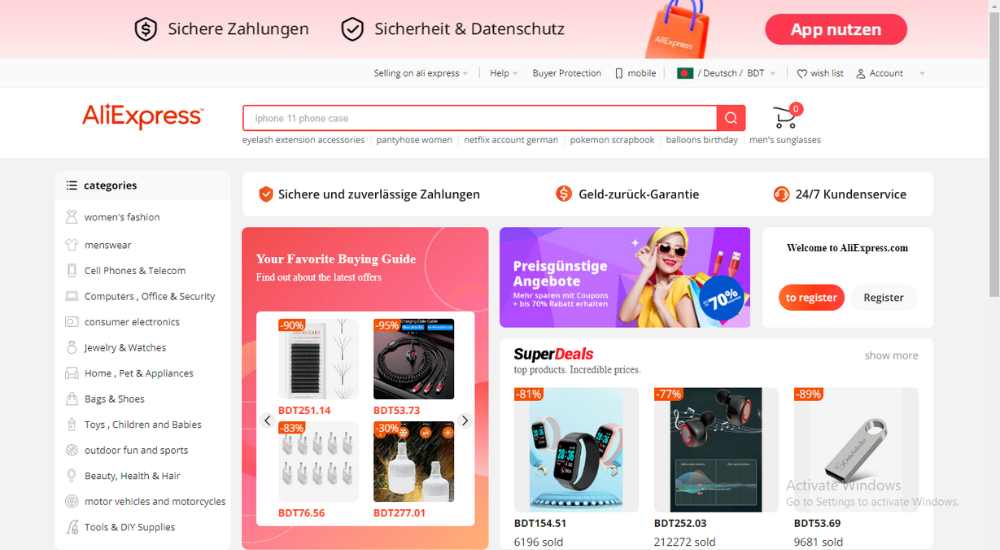 The platform's behavior embodies a user-centric approach, fostering trust through transparent reviews and seller ratings. AliExpress's human touch shines through in its accessible interface, facilitating seamless navigation and enhancing the overall shopping experience. For those seeking a globally-connected marketplace with a personal touch, AliExpress emerges as a compelling alternative to Amazon.
Store Feature
Global Shipping: AliExpress collaborates with a range of shipping providers to offer global shipping options. This makes it possible for customers worldwide to access products that might not be available locally.
Community Engagement: AliExpress fosters a sense of community among its users through forums, discussions, and sharing features. This allows shoppers to connect, exchange experiences, and gather insights from one another, making the shopping journey more interactive.
Generous Return Policies: One of the standout features of AliExpress is its customer-friendly return policies. Customers have a window of 15 days from the date of receiving their item(s) to initiate a return. During this period, returns can be made without the need for an explanation, provided that all items are in impeccable condition and still housed within their original packaging. Notably, if the seller provides the option for Free Return, this information will be distinctly indicated on the item details page.
Pros
Affordable Pricing: The platform is known for its competitive prices, making it a popular choice for budget-conscious shoppers.
Frequent Sales and Discounts: AliExpress frequently holds sales events and offers discounts, providing opportunities for shoppers to save even more money.
Trackable Shipments: Customers can track their orders in real-time, staying updated on the status and estimated delivery date.
Secure Transactions: AliExpress employs advanced security measures to protect users' personal and financial information during transactions.
Cons
Delivery Delays: One of the notable drawbacks of AliExpress is the occasional delay in delivery. Due to the wide range of sellers and shipping methods, customers might experience longer-than-expected delivery times.
Inconsistent Product Quality: Since AliExpress hosts numerous sellers, the quality of products can vary greatly. Some customers have reported receiving items that differ significantly from their descriptions or images.
Insights from Shoppers: AliExpress Reviews on Trustpilot
AliExpress has garnered a mix of praise and concerns from its diverse customer base on Trustpilot. Many shoppers appreciate the platform's vast array of products at competitive prices, often hailing the site as a treasure trove for budget-friendly finds. Users also applaud the intuitive interface and seamless browsing experience that makes navigating through the multitude of items relatively effortless. However, some customers voice reservations regarding the shipping times and occasional discrepancies between product images and delivered items. While some shoppers have celebrated efficient deliveries that exceeded expectations, others have expressed frustration over extended wait times and occasional difficulties in obtaining refunds or resolving customer service issues. Despite these varied experiences, AliExpress maintains a substantial following of satisfied customers who continue to enjoy its affordability and an extensive selection, though some caution is advised when making purchases to ensure a smoother shopping journey.
Discovering Affordable Delights: Etsy
Renowned as one of the popular e-commerce enterprises within the United Kingdom, Etsy distinguishes itself through an array of captivating features. It has earned a reputation as a haven for meticulously crafted goods and artistic materials, setting it apart as a compelling substitute to Amazon on a global level.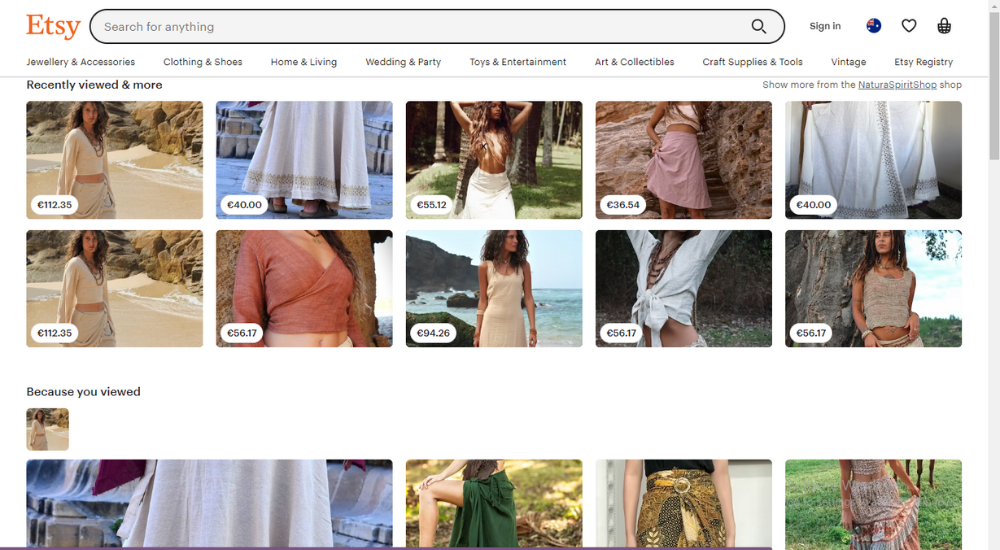 Serving to an international audience, Etsy's appeal lies in its curated selection of homemade creations and imaginative supplies. The platform's emphasis on individuality and craftsmanship resonates deeply, making it a preferred destination for those seeking authenticity in their shopping experience. In the realm of online marketplaces, Etsy shines brightly as a beacon of creativity, offering a captivating alternative that invites both sellers and shoppers into a world of bespoke treasures.
Store Feature
Handmade and Unique Items: Etsy is renowned for hosting a wide array of handcrafted, vintage, and unique products. The platform connects buyers with artisans, fostering a personal connection and often allowing for customization.
Eco-Friendly Options: Many Etsy sellers are conscious of eco-friendly practices. Buyers looking for sustainable products can find a variety of options that align with their values.
Community Engagement: Etsy isn't just a marketplace; it's a community. Buyers and sellers can connect through forums, teams, and events, creating a sense of belonging and a shared passion for creativity.
Flexible Return- Refund Policies: Etsy offers a variety of return policies, allowing sellers to set their own terms. Buyers can check the specific return policy on each listing before making a purchase, fostering transparency and confidence. A refund will be provided in cases where an item is not delivered, arrives in a damaged condition, or does not align with the item's description or provided photos. If the need arises to return or exchange an item, buyers are encouraged to reach out to the seller from whom the order was made, as they are the most suitable point of contact for assistance.
Prons
Global Accessibility: Etsy's platform reaches buyers and sellers from all around the world. This offers a diverse selection of products and promotes cross-cultural connections.
Customization: Many Etsy sellers offer customization options, allowing customers to tailor products according to their preferences, adding a personal and human touch to every purchase.
Direct Communication: Buyers can directly communicate with sellers, enabling a personalized shopping experience. This interaction fosters a sense of connection and allows buyers to ask questions, request modifications, or even collaborate on bespoke creations.
Curated Collections: Etsy often features curated collections, highlighting specific themes, trends, or seasonal items. These collections help buyers discover new products and trends while supporting various artists.
Cons
Shipping Delays: Many Etsy sellers are small businesses operating on their own, which can result in longer processing and shipping times compared to larger retailers. This can be frustrating for buyers who are used to faster shipping from bigger online stores.
Communication Challenges: Communication with sellers can sometimes be slower or less efficient, as many Etsy sellers are individuals managing their shops alongside other commitments. This can lead to delays in answering questions or addressing customer concerns.
Insights into Shoppers' Perspective Towards Etsy on Trustpilot
Esty has earned an array of praise from its customers. The platform has garnered a wealth of positive feedback, with users consistently commending its user-friendly interface, diverse range of unique products, and the personalized shopping experience it offers. Customers have expressed satisfaction with the quality and craftsmanship of the items they've purchased, often describing them as one-of-a-kind treasures that are difficult to find elsewhere. Many reviewers have also lauded the attentive and responsive customer service provided by Esty's sellers, emphasizing the human touch that sets the platform apart. Additionally, customers have highlighted the convenience of being able to support independent artisans and small businesses while discovering items that resonate with their individual style. In essence, the reviews showcase how Esty has managed to cultivate a devoted community of shoppers who appreciate its curated marketplace and the genuine connections it fosters between buyers and sellers.